This one is pretty easy all you have to do is buy a domain from a registrar and create an A record for your server.
The process is similar between all of them. My preferred registrar is porkbun.com they offer good prices for the domains I buy. Whoever you choose to buy from doesn't really matter from just make sure it's not godaddy they're the worst.
To create an A record it's pretty simple. The one I use for kart.moe looks like this: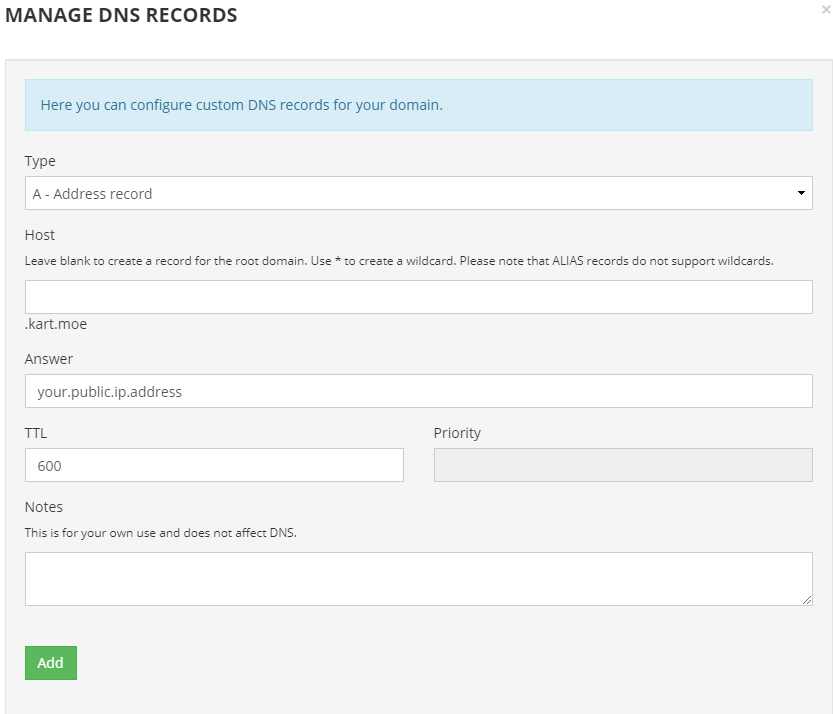 Leave the host or subdomain blank to point to your ip address and you're done.
Note that on some registrars like porkbun they create a default record that points to their servers. Just make sure you modify that one or delete it and create a new one.
If buying a domain is too much I'm offering anyone reading this a chance to get a *.kart.moe subdomain free of charge.
Want yourname.kart.moe or mywaifu.kart.moe? Just PM me on discord (ヒーミー#1031) with the subdomain you want and your server ip address and I'll set it up for you. It usually takes like a minute to create so you won't have to wait long.
Happy karting!